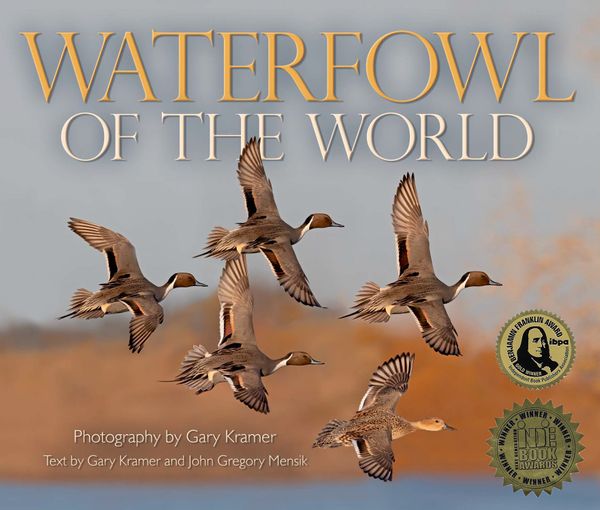 WATERFOWL THE WORLD - STANDARD EDITION
Through the images of award-winning photographer Gary Kramer, and the words of Kramer and Greg Mensik, Waterfowl of the World takes readers on a visual and literary journey in search of all 167 species of ducks, geese, and swans on Earth. Among these are a few on the brink of extinction, like the Madagascar Pochard and Brazilian Merganser; and those that are struggling, such as the White-winged Duck and Baer's Pochard. There are some, like the Nene, that were recently in peril, but are now secure due to conservation efforts; as well as others, including Snow Geese and Canada Geese, whose populations have experienced dramatic increases in recent decades.
Waterfowl of the World is an extraordinary accomplishment and a testament to Kramer's and Mensik's long professional history and expertise in waterfowl ecology and management, and even more importantly, Gary's superb photography. This book combines his skills in a way that simply could not be accomplished by any other person. The effort required to produce it is almost unimaginable. Kramer visited more than 40 countries in three years and a half years to photograph virtually all the waterfowl on the planet. Simply seeing these species would be an accomplishment of a lifetime for many, but photographing them in their natural habitats is something well beyond the grasp of even the most accomplished wildlife photographer.
Waterfowl of the World combines range maps, natural history, and conservation/status information with a photographic insight seldom seen. It will be an outstanding resource for a broad constituency of readers, including waterfowl hunters, birders, wetland managers, nature photographers, academics, and students, with an interest in the ecology and biology of this remarkable group of birds.
Gary Kramer's newest book - Waterfowl of the World, has been awarded a Gold Metal in the 2023 Benjamin Franklin Independent Book Publishers Association Awards. See Awards/Accolades, Articles/Podcasts for details.
THE BOOKS ARE IN STOCK - ALLOW 10 DAYS FOR DELIVERY
Coffee table book, hardcover, 12 x 10 ¼ inches with 540 pages, 1,299 color photos and 167 range maps.
Standard Edition Author signed books:
$99 ‑ postpaid in US (except California)
$106 - postpaid California residents
$140 - postpaid Canada
Other foreign address requires significantly more expensive postage – email before ordering - gkramer@cwo.com