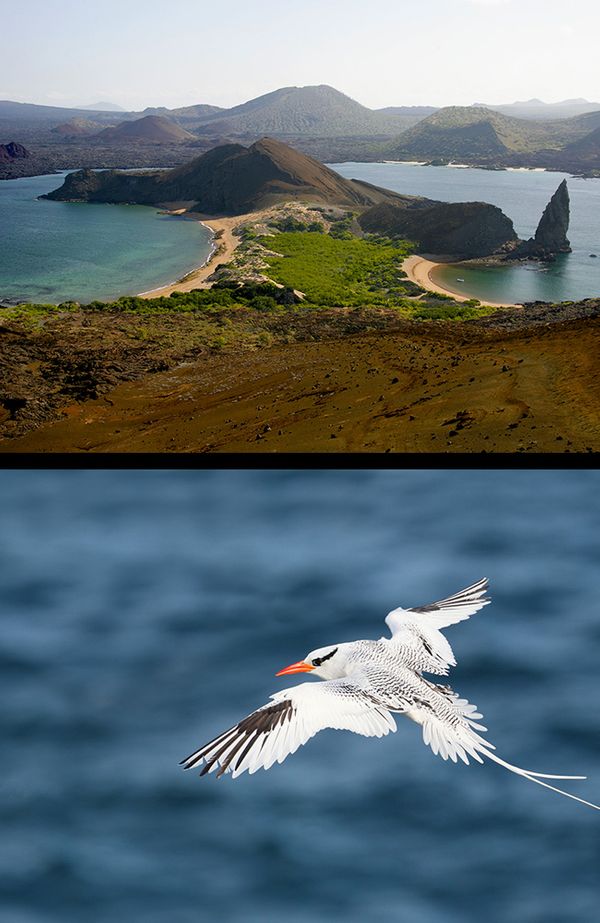 GALAPAGOS
Galapagos - April, May, June
The trip is 11 days/10 nights with the group size 8 to 16. Galapagos National Park rules require visitors to be accompanied by a park-certified guide with 16 people the maximum number one guide can accompany. Clients depart the US with an evening arrival in Quito, Ecuador. The next two nights will be spent at the Guango EcoLoge near Quito. The first day in Ecuador will be birding/photography/hiking in the Ecuadoran rain forest.
The next morning we will depart Quito and board a jet flight to the Galapagos where our base of operation will be a 100 foot motor yacht. The vessel has 8 double occupancy, air conditioned staterooms each with a private bath. During the next week we will travel the archipelago with landings on 8 islands. There will be many opportunities for photography during hikes where seabirds, endemic land and aquatic birds along with land and marine iguanas and giant tortoises abound. During our stay, we will snorkel and swim with sea lions and Galapagos penguins plus an abundance of marine life. The final day we board a midday flight back to Quito where we will spend the night at a hotel. The next morning, transportation to the airport will be provided for our departure to the US. The time frame was selected to view and photograph the largest variety of birds including the nesting activity of seabirds plus mammals and reptiles.
MAY 2018
The 2018 trip is scheduled for May 2 to May 12 on the Tip Top II, 100 foot motor yacht (www.rwittmer.com). The boat can accommodate 16 passengers in 8 double state rooms, each with a private bath. I need a minimum of 8 passengers and a maximum of 16 passengers, with 16 being the preferred number.
The 11 day trip is $5,995/person double occupancy and includes domestic airfare (Quito to Galapagos and return), food, lodging (boat and land), all activities in the Galapagos, park approved guide, park fees and ground transfers. You pay for tips and personal items. International airfare is not included. While 2018 is many months away and airfare is subject to change, expect to pay $1,000 to $1,200 for international airfare.
A deposit of $1,000/person is due no later than January 1, 2017 to hold the space. I will hold all deposits until 8 clients have committed. I expect the trip to fill but if I do not get 8 passengers by January 1, the deposits can be refunded in full and we can discuss other options. After January 1, the deposit of $1,000 is non-refundable with the balance due 90 days prior to departure. Please make deposit checks out to Gary Kramer and send to P.O. Box 903, Willows, CA 95988. If you have questions call 530-934-3873 (office) 530-514-8853 (cell) or email gkramer@cwo.com
Below is the trip itinerary and attached is a detailed itinerary of the Galapagos portion of the trip.
Wed May 2
Lv US AM
Ar Quito, Ecuador between 8:00 pm and 10:00 pm, transfer to Guango EcoLodge, Overnight
Thu May 3
Day of Birding, Hiking and Photography at Guango Lodge, Overnight
Fri May 4
Lv Guango Lodge early AM, transfer to Quito Airport
Lv Quito 6:50 am Avianca 1632
Ar Guayaquil 7:45 am
Lv Guayaquil 8:25 am Avianca 1632
Ar Baltra, Galapagos 9:20 am, transfer to Tip Top II, PM Santa Cruz Island - visit Charles Darwin Station Interpretive Center, overnight Tip Top II
Sat May 5
Santa Fe Island AM, South Plaza Island PM, overnight Tip Top II
Sun May 6
Chinese Hat AM, Rabida Island PM, overnight Tip Top II
Mon May 7
Santa Cruz Island - Black Turtle Cove AM, Dragon Hill PM, overnight Tip Top II
Tue May 8
Floreana Island - Post Office Bay AM, Devils Crown and Punta Cormorant PM, overnight Tip Top II
Wed May 9
Espanola Island - Punta Suarez AM, Gardner Bay PM, overnight Tip Top II
Thu May 10
San Cristobal Island - Jacinto Gordillo Turtle Breeding Center AM, Kicker Rock- Cerro Brujo PM, overnight Tip Top II,
Fri May 11
North Seymour Island AM, transfer to Baltra Airport
Lv Baltra 10:05 am Avianca 1633
Ar Guayaquil 12:55 pm
Lv Guayaquil 1:55pm Avianca 1633
Ar Quito 2:50 pm, transfer to Hotel, day room or overnight depending on your flight (Some are redeye flights leaving May 11 and others are morning flights leaving on May 12)
Sat May 12
AM transfer to Quito Airport, Lv AM bound for US, arrive PM