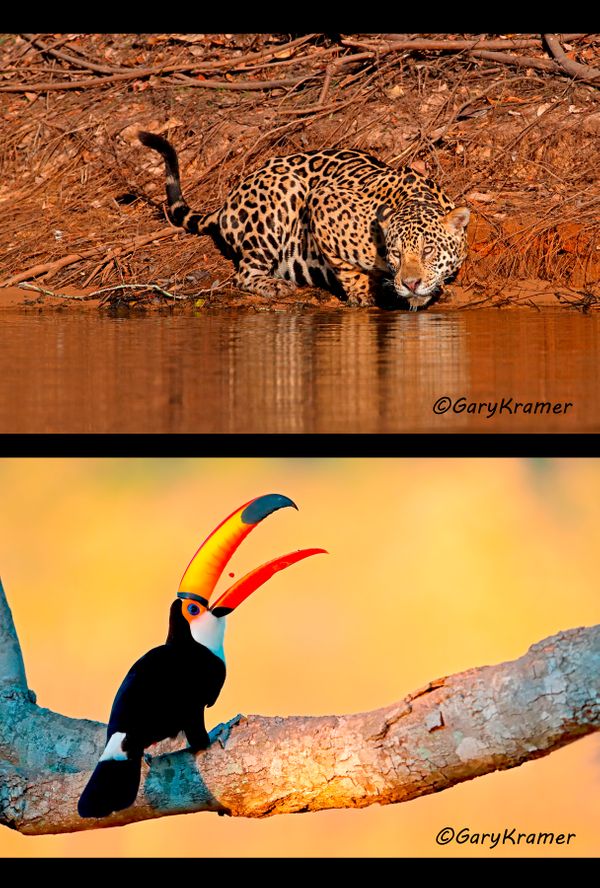 Brazil
Brazil - July, August, September
This trip is to the Pantanal of Brazil for jaguars, anteaters and multitude of exotic birds. The Pantanal is a massive grassland/wetland complex interspersed with rivers. This area has become the single most reliable place on earth to see wild jaguars and giant otters. On my last trip there we saw 1 to 4 jaguars every day including many photo opportunities, some quite close. All game viewing for jaguars/otters is from small boats. The accommodations on the first segment of the trip is a floating lodge and land based lodges.
The second segment of the trip is to the southern Pantanal reached via a small aircraft charter flight. Here sightings of giant anteater and lesser anteater are almost certain along with a good chance of seeing ocelot. The game viewing here is in open safari style vehicles. There is also a unique macaw viewing/photography opportunity on this portion of the trip. The birdwatching and bird photography is exceptional throughout the trip, especially at the lodges where toucans, parrots and may other birds come to feeders.
The price I have negotiated is hundreds of dollars less than the other trips to the Pantanal and I have one of the only itineraries with a charter flight between areas. The charter flight is about two hours and saves eight hours of road travel, a domestic flight and a hotel night. The photography is outstanding, the weather is comfortable (high 80's during the day and 60's at night), the accommodations outstanding and the local guide excellent. The wildlife viewing/photography experience in the Pantanal is a bucket list trip for sure.
The 2022 trip is scheduled for July 31 to August 10. The trip is designed for 10 people and is $7,130/person (double occupancy) and includes a charter flight, food, lodging, boats, local guide and ground transfers. You pay for only for tips and personal items in Brazil. International airfare is not included and you must obtain a Brazilian visa. While airfare is subject to change, expect to pay about $1,500 SFO or LAX to Sao Paulo then on to Cuiaba with a return from Campo Grande to Sao Paulo and back to the US.
Pantanal, Brazil - July 31 to August 10, 2022
Sun July 31
Ar Cuiaba by 5:00 pm transfer to Slavieiro Hotel, welcome dinner, overnight Slavieiro Hotel
Mon Aug 1
AM road transfer (2.5 hours) to South Wild Pantanal Lodge, lunch, PM boat ride, ocelot viewing, overnight SWPL
Tue Aug 2
AM photo/view birds at Lodge, AM road transfer by Van (2.5 hours) to Porto Jofre, 30 minute boat transfer to Panoramico Floating Hotel, PM wildlife viewing, overnight Panoramico
Wed Aug 3
AM & PM wildlife viewing, overnight Panoramico
Thu Aug 4
AM & PM wildlife viewing, overnight Panoramico
Fri Aug 5
AM and PM wildlife viewing, overnight Panoramico
Sat Aug 6
AM wildlife viewing, lunch, PM boat transfer to Piquiri Lodge and wildlife viewing, overnight Piquiri Lodge
Sun Aug 7
AM wildlife viewing at Piquiri Lodge
Lv Piquiri Lodge 8:30 am (charter flight - 3 aircraft, 5 & 5 passengers + one for luggage)
Ar Jardim 11:00 am, lunch, PM visit Macaw sinkhole, overnight Hotel Vitoria
Mon Aug 8
AM visit to Macaw sinkhole, road transfer (3 hours) to Pousada Aguape, lunch, PM wildlife viewing, overnight Pousada Aguape
Tue Aug 9
AM & PM wildlife viewing, overnight Pousada Aguape
Wed Aug 10
AM wildlife viewing, box lunch, road transfer (3 hours) to Campo Grande
Lv Campo Grande 4:30 pm